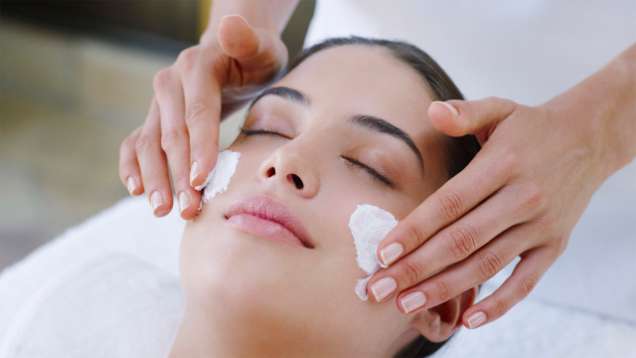 Yes! You heard me right! This is what I have been doing ;I get bleach, facial and hair conditioning at this rate.Those bleaches and facials at a beauty saloon are least effective, apart from being costlier. If the results were awesome, I wouldn't mind spending lavishly. So when I didn't get the desired results, at some point I tried this . This gives me the glow which even the costliest facials at a saloon didn't do for me. So, now I don't spend even a penny at the parlours and I have cut down the usage of cosmetics at home too, as I feel it is not at all a necessary now.
This is really wonderful,easiest,less time consuming apart from being the cheapest! You don't need much massage techniques for this either, gentle circular movements with finger tips are best desired. And all you need is 10-20 minutes of time. You can see the results within few seconds of applying it. Be careful with the movements, they should be very gentle and superficial else, it will be ineffective or you may even turn darker. Even the duration shouldn't last long as it extremely dries out the skin. Make sure that you apply it on a clean skin and don't forget to wash face with a mild face wash or soap after massage too, else you will get acne and pimples. So all one needs to do is, to keep the technique, time and cleanliness in mind to have the marvellous results which aren't yielded by the herbal, silver, gold,diamond and so on facials.
And for conditioning hair, apply oil and then apply it to the scalp and hair thoroughly. Then, rinse your hair with a mild shampoo. This...definitely softens the hair along with removing dandruff completely. Trust me, it made my hair more softer than any conditioner did.
MY MAGICAL BOWL
Oh!Did I forget to tell what it is? Sorry, here I say, it is a bowl of curds. Yes, you heard me right! The store bought curd does wonders as it is prepared from processed milk and so has less fat and doesn't make skin oily and darker. Not only does curds, with its high calcium content and probiotics, has health benefits but also beauty benefits. Whenever I buy curds from the store, I keep aside a bowl full of it for my bleach cum facial and hair conditioning. Do give it a try this cheapest facial,bleaching and hair-conditioning at home without fail and let me know the results.